We received this sweet message in our Facebook inbox and thought it might make you smile as well. It doesn't matter how long it's been, we still love to see updates and hear how much you love the animals you adopted from the Lawrence Humane Society. It warms our hearts to know we are the bridge to finding you the perfect best friend for years to come.
"Just wanted to share a quick success story — twelve years ago, I adopted a cat from you while I was in college at KU (his old adoption pic attached, plus some recent ones from this summer!). Gilbert was about a year old at the time and had been at the shelter for around six months; supposedly he was a staff favorite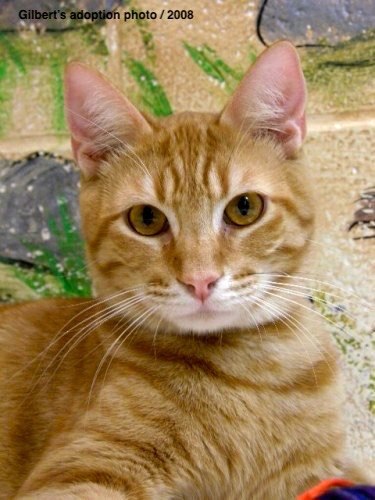 I wanted to let you know that he has proved to be one of the very best decisions I've ever made! He is so sweet and affectionate that he hardly seems like a cat — he sleeps with me, waits for me at the door, and if he could hermetically graft himself to my leg when we watch TV, I think he would.
We've moved from Kansas to NYC, to LA, back to NYC, and we're about to make a (hopefully final) move to the Bay Area soon. And even though he's now 13+ years old, he's in perfect health and barely slowed down. I've even joked to my friends that I'll have to wait until he passes away to have kids because he would so clearly still be my favorite. (I wish I could say I'm kidding…but I'm really not.)
All of this to say: Thank you for loving him so much during those months when he was in your care — he has such a wonderful, well-adjusted personality and that wouldn't have been possible if he'd been placed in a traumatic environment early in his life. The exceptional care you provided helped turn him into the incredible little guy he is and gave me the best family member anyone could hope to have. I honestly couldn't adore him more!
xo,
Hannah & Gilbert"